Genshin Impact Currencies and How to Earn More
Learn about the many Genshin Impact Currencies and how to get them and earn more. As you know, Genshin Impact is a free game, we can download and start to play without spend any money. However, there are a in game currency which we can earn just doing some quest in some cases, while in others we may need to spend some real money.
Like many gacha games, there are a lot of currencies in Genshin Impact, which can be somehow confusing. To make things more difficult, new ones are added time to time. If you're just jumping into the game, their number can be overwhelming, and won't help you figure out what to do.
Mora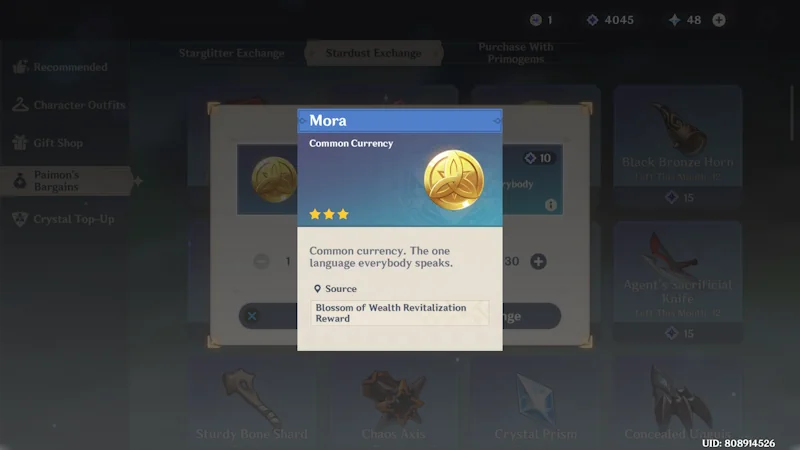 This is the basic and the most common currency in the Genshin Impact world. It is what the gold is to many games. The basic currency and the most  used in game. We need it to buy items from the shops available, things like ingredients, armor, and more. We need it to increase our weapons level too. As for so many things we may do in game, so even if there is plenty of them, we have to be very cautious using it.
How to obtain Mora? Well, it is not very hard really, we just need to complete commissions, complete some quests, open chests, claim blossoms of wealth rewards, destroy artifacts, by finishing some events, doing expeditions, reputation tasks, killing enemies, and more.
This is the most common currency, we won't have so much problem getting it.
Genesis Crystals
The first and one of the most important, the Genesis Crystals. This in game currency is the premium one so we need to spend some real money on it. This currency is needed to buy some in game items which can help us to level up faster or get some summons, etc. There is no other way to get them but spending some money.
The prices may vary due to region fluctuations, conversion rates are also based on your location.
$0.99 – 60 Genesis Crystals
$4.99 – 300 Genesis Crystals
$14.99 – 980 Genesis Crystals
$28.99 – 1980 Genesis Crystals
$48.99 – 3280 Genesis Crystals
$99.99 – 6480 Genesis Crystals
There may be some promotions or discounts time to time, so it is a good idea to keep an eye on them in case we get a nice rebate.
Primogems
Another important currency are the Primogems. Luckily this can be obtained through in-game. You can use this currency for a number of tasks, but most notably for Fate items and Wish summons.
There are several ways to get Primogems, we just can complete many tasks in the world, open chests, doing some quest, main and side quests, etc. These can be traded for Fate items for Wish summons at a rate of 160 Primogems for one Fate. We can get them trading Genesis Crystals at a rate of 1-to-1. Though if you play enough you will easily be able to get Primogems without having to buy Genesis Crystals.
Here are some ways to earn Primogems:
We can complete Domains instances
Complete Achievements
We may need to complete several in-game events
Raising our Adventure Rank
By opening chests, it includes common, exquisite, precious and luxurious
After activating Statues of the Seven we may worship them
Complete Experience Chapters
Take on commissions (adventure rank 10)
Masterless Starglitter
Starglitter are need for Wish summons. We will get Starglitter when your Wish summon includes duplicate characters or weapons, it works as a consolation prize. We can trade Starglitter for more Fate. If we want to use Starglitter we have to go into the Shop and then onto Paimon's Bargains. Select the Stardust Exchange tab and see the offers we can get for this currency.
Masterless Stardust
Stardust is very similar to Starglitter and can only be acquired through Wish summons. You will get much more of this than Starglitter, and the items you can trade it for are far more varied but more limited too. You'll only be able to buy 5 of each Fate item with Stardust per month. You can trade it for Mora or other items, but Fate is by far the most worthwhile investment. A common item in the Genshin Impact Currencies.
Elemental Sigils (Regional Currency)
When you level up your Statues of the Seven, open chests, and interact with floating crates, you acquire regional Elemental Sigils. These sigils are used to buy materials and weapon billets from the region's Souvenir Shop. You can also use them as offerings to trees like Inazuma's Sacred Sakura and Sumeru's Tree of Dreams. Currently, there are four kinds of Elemental Sigils in the game:
Anemo Sigil for Mondstadt
Geo Sigil for Liyue
Electro Sigil for Inazuma
Dendro Sigil for Sumeru
Anemo/Geo Sigil
Anemo and Geo Sigils are currencies that can only be traded in shops that sell Ascension material. These are sigils that can be earned by completing quests and exploring the world. Mondstadt will use Anemo Sigils, while Geo Sigils are used in Liyue. They can also be traded for Mora, if you need more.
We can get Anime and Geo from:
From Statues (Statue of the Seven rewards)
Opening chests (Mondstadt chests for Anemo Sigil and Liyue chests for Geo Sigil)
Collecting water floating crates and rocky outcrops in Liyue (for Geo Sigil)
Stella Fortuna
This is a Constellation Activation Material that you can use to activate the Constellations for each playable character. You can obtain it by getting a duplicate character (from Wishes, Paimon's Bargains Shop or Events). All you need to do is already have a copy of the character. All the other copies of it that you'll obtain afterward will become Stella Fortuna.
Original Resin
This currency is the equivalent of Energy like we see in many other games. It is used to claim rewards from Ley Line Blossoms (20 Resin), Domains (20 Resin), Elite Bosses (40 Resin) and Weekly Bosses (60 Resin). You can run out of this by trying to complete a multitude of tasks in one go, so you'll need to replenish it to be able to claim the rewards.
This is how you refill your Original Resin in Genshin Impact:
Over time (1 Original Resin refills automatically in 8 minutes)
By using Condensed Resin
By using Fragile Resin
Spend Primogems for replenishing it
Fates (Acquaint Fate & Intertwined Fate)
Both of these Genshin Impact currencies are used to complete Wishes. The only difference between them is that you'll use a different type depending on the Wish banner available. Not so complicated item in the Genshin Impact Currencies.
How to obtain Fates:
From Paimon's Bargains (with Primogems, Starglitter and Stardust)
From the Battlepass
By ascending characters
From Adventure Rank
You may check for more info in MiHoyo Lab, the official forum for Genshin Impact and other games. Genshin Impact is preparing for it is next update, Treasures of the Deck.
This post was originally published on: November 30, 2022