How to Download Fortnite Mobile for Android (Updated 2023)
Since Fortnite is banned from the App Store and Google Play Store, we can't download Fortnite Mobile through the official App Stores. It doesn't mean we can't play it anymore. We just need to download the launcher from Epic website or download the APK in another website mirrors.
Right now, there is two ways to download Fortnite Mobile for Android, the first one is with the official launcher. This is the easiest and most recommended way.
Epic Games App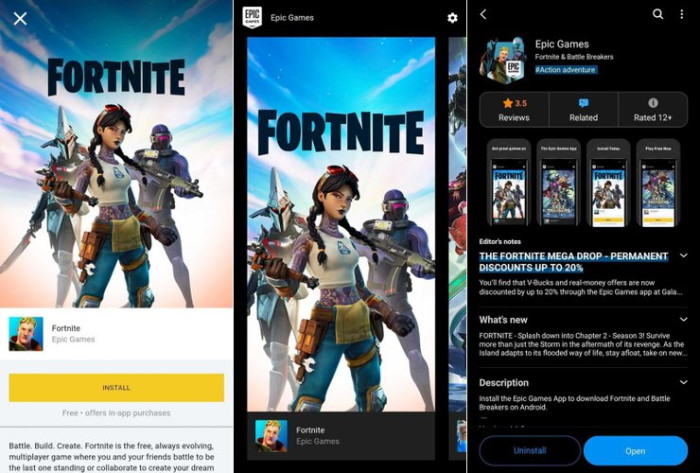 The Epic Games App is available in the Galaxy Store, Google Play Store, and so on. If not, we just have to go to the Epic website and download the APK. First it will ask us if our mobile phone or tablet it is compatible with the game. Not every phone can handle Fortnite, but a relative modern one should be enough.
To download Fortnite Mobile for Android, you can follow these general steps:
Open a web browser on your Android device and visit the Epic Games website.
Navigate to the Fortnite section or search for "Fortnite Mobile Android" on the website.
Look for the official Fortnite Mobile Android download link or button.
Tap on the download link or button, and the Fortnite Mobile APK file should start downloading.
Once the APK file is downloaded, locate it in your device's Downloads folder or the folder you specified for downloads.
Before installing the APK, make sure your device allows installations from unknown sources. To enable this, go to your device's Settings, then Security or Privacy, and enable the "Unknown Sources" option.
Tap on the downloaded APK file to start the installation process.
Follow the on-screen instructions to install Fortnite Mobile on your Android device.
Once the installation is complete, you can open the game and sign in to your Fortnite account or create a new one if needed.
Please keep in mind that these instructions may have changed since my last update. It is recommended to visit the official Fortnite website or search for recent information regarding Fortnite Mobile for Android to ensure you have the most up-to-date and accurate instructions for downloading the game.
Download Fortnite Mobile APK
The other way is getting the APK from another website. You have a lot of choices here, being the more trustable sites like APK Pure. You may try with a fast Google Search, even if you get some result, we recommend to use the Epic game launcher instead.
There are some stores that still have Fortnite. If you have a Samsung galaxy Phone you may download it in the Samsung Galaxy Store. It is the same situation with Huawei Store, among others.
This post was originally published on: November 28, 2022